Dog Hoodie patterns
Thanks to our friend Dayana, who sent me the pattern of the hood, now we can make a dog hooded sweater.
Below some photos of Dayana's dog with a pink hoodie.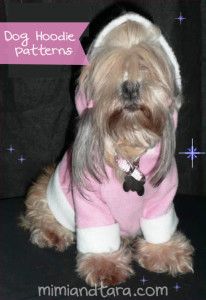 This model is made with the dog sweater raglan sleeve pattern and adding the hood pattern.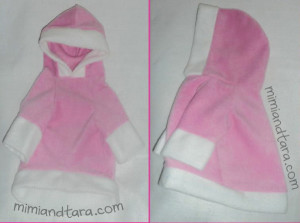 Below you can see a preview of the hood pattern and the binding strip (hood strip):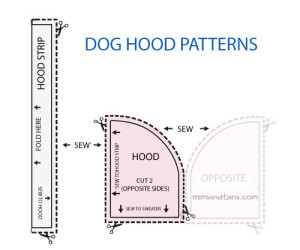 You have to cut 2 hood patterns with opposite side (cut face to face or with right sides together).But note that if you want the hood lined you have to cut 4 pieces of the pattern, 2 of garment fabric and 2 of lining fabric.
Cut the binding strip of the hood on fold (with the fabric folded) so that you won't have a seam on the binding's edge. Sew the hood in the same manner with right sides facing together. After sew the hood to the binding strip.
To attach the hood to the sweater turn both pieces right side out. Locate the exact middle of the back neck on the sweater. Pin the back of the hood here with the right sides facing each other. Continue to pin all the way around to the front and sew, removing the pins as you go.
DOWNLOAD FREE PATTERNS in 6 different sizes below:
Please note that: the largest patterns are split into 2 or more pages, have to print, cut out and join them together to get the entire pattern.
DOWNLOAD THE PATTERNS:
Important: please read this before printing the patterns: