Dog boots patterns
These dog boots are very easy to make and will protect our pets paws.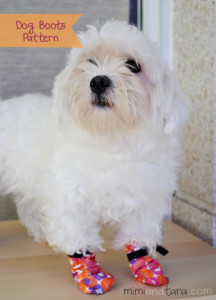 First of all please remember that no matter how charming dogs can be with their booties (as you can see in the picture of my dog Tara 😉 boots and socks are not good for dogs because they need to wear down the claw nails with the natural friction when walking.
Nor are good the dog shoes with thick rubber soles that are too hard and do not allow natural movement of the paws and ankles when walking and may cause long run damage.
So the boots should always be soft to allow free movement and should be used only to protect, not fashion. In places where it is very cold and the ground can damage the dog's paws from rocks or thorns, etc …, yes boots can be a good solution!
The fabric should be soft but strong, not too thin or too hard. Waterproof fabric can be used if we need to protect from rain but note that will cause a bad ventilation.
To prevent the boots from falling off, sew a strip with velcro tape on top so the shoes will be wrapped tightly on the ankle paws.
More homemade dog boots pics from other blogs :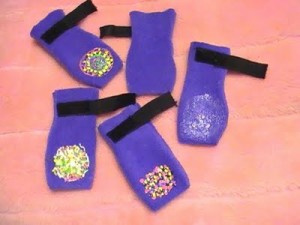 kathy-agilityadventures.blogspot.com
In the area of the pads or sole, you can sew a circle with some non slip material (marked on the pattern with a gray circle).
domestikgoddess.com
Here you have the size chart.To measure the width of your dog's paws, have the dog stand on a firm surface and measure a front foot at the widest part (see the red arrow below) and choose the size that most closely matches your measurement.
If you are between sizes choose the smaller size.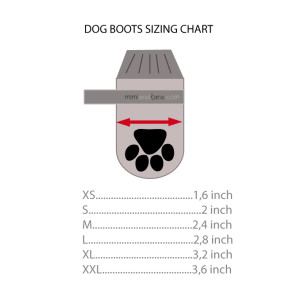 And here's a preview of the pattern: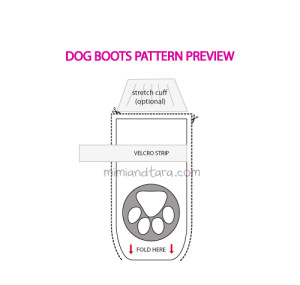 Optionally you can finish the boots by sewing a stretch cuff on top.
Remember to cut the pattern with the fabric on fold on the toe to avoid an annoying seam in that area.
Download the patterns in all sizes (XS-S-M-L-XL-XXL) below:
Important: please read this before printing the patterns:
How to measure your dog for clothing
Dog clothing sizing chart
Tips for printing patterns
Hope you enjoy it!!