Count dracula dog cape patterns
Halloween is nearly here so today I bring you the patterns to sew a vampire or Count Dracula cape for dogs very simple and easy to make.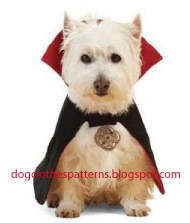 There are 2 patterns : one for the cape and another for the collar piece. This cape will look great with a black exterior and red lining interior then you have to cut two equal pieces of cape pattern and two equal pieces of collar pattern.
Sew two small strips with velcro tape on the neck and two on the chest to fasten the cape.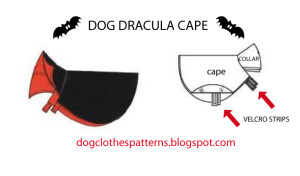 Note that we have to cut the patterns with the fabric on fold to get the whole piece so that we won't have a seam down in the middle.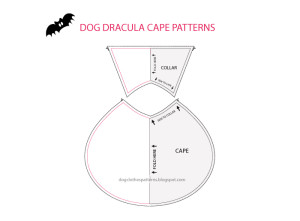 It is recommended to use satin fabric but you can also use velvet fabric.
To make collar piece more rigid sew it with some hardened plastic inside, cardboard or thick cloth like felt.
Put a pendant or locket on your dog's neck to complete your Count Dracula costume…and that's all cause your dog has its own fangs! Yeay!
DOWNLOAD FREE PATTERNS in 6 different sizes below:
Please note that: the largest patterns are split into 2 or more pages, have to print, cut out and join them together to get the entire pattern.
Important: please read this before printing the patterns:
How to measure your dog for clothing
Dog clothing sizing chart
Tips for printing patterns
Happy Halloween!!