Dog winter dress patterns
For the most vain dogs here I bring you the patterns to make this lovely winter dress with long sleeve and pleated skirt.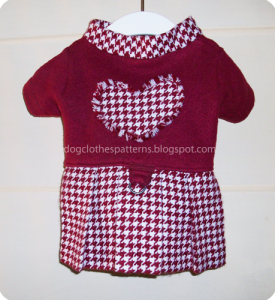 Many thanks to our friend Shirakawa who sent me the patterns of this pretty dress. Below you can see her dog wearing the dress.
As you can see in the pics, the skirt is pleated , so you have to sew the skirt piece making pleats in the back zone, like school girls skirts.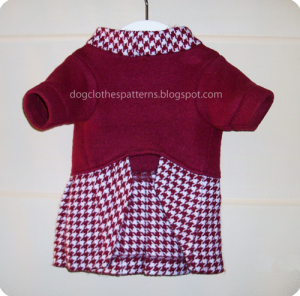 The skirt is open on the front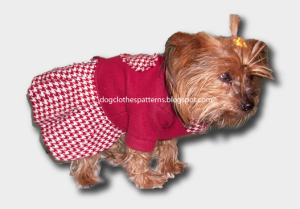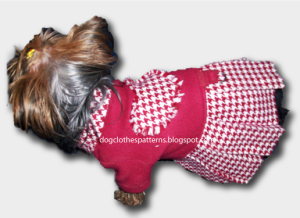 Sew a heart in the back or another silhouette that you like. Also add a ring on the back if you want to attach the dog's leash.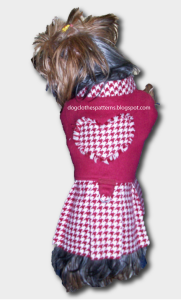 Here is a preview of the patterns: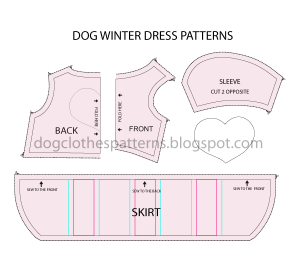 To finish have to add a strip on the collar and the cuffs. Remember that the skirt pattern seems a bit long because you have to make pleats with the fabric and then pin it and baste it before sewing .
Note that the pink lines means you have to fold inward and blue lines means you have to fold outward
IMPORTANT: You have to cut the left sleeve opposite to the right sleeve, so you can cut it with the fabric folded with right sides facing together. Like this, you will get the right sleeve and the left.
Below show you a little scheme about how to sew the sleeves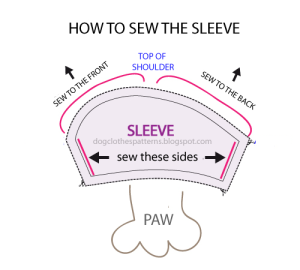 DOWNLOAD FREE DOG WINTER DRESS PDF PATTERNS in 6 different sizes below:
Please note that: the largest patterns are split into 2 or more pages, have to print, cut out and join them together to get the entire pattern.
Important: please read this before printing the patterns:
How to measure your dog for clothing
Dog clothing sizing chart
Tips for printing patterns