Bumble bee dog costume patterns
This bee costume for dogs is one of the many beautiful designs you can make with the hooded dog sweater patterns. Perfect for Halloween!!
These images were sent by our friend Dayana.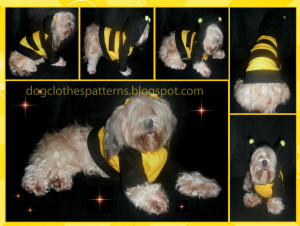 For this model you need yellow and black fabric.
Below you can see an scheme of how she sew black strips to make the striped body. For an M size costume she recommends cut 2,5 inches wide strips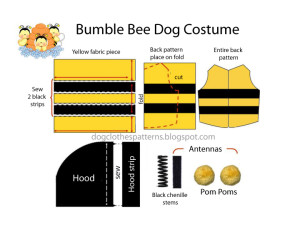 First of all cut 2 strips in black fabric and sew on a yellow fabric piece as you see in the scheme and after place the back sweater pattern on fold, and cut it out.
Use yellow fabric for all the chest piece and black fabric for the sleeves and the hood.
Also sew a wide black strip at the end of the back and chest piece. Finally attach the sweater to the hood as always.
She has added two antennas made of black chenille stems with pom poms. And it looks amazing!
You can also sew two little tulle wings on the back.
Remember that for this model you have to use Hoodie dog patterns, to download here
Important: please read this before printing the patterns:
Happy Halloween!!